Regular price
$19.95 USD
Sale price
$19.95 USD
Unit price
per
Sale
Sold out
FORESTER FULL-CHISEL CHAINSAW CHAIN LOOP – Non-safety chain 3/8" | .050 Gauge...
---
Product Overview
Model: 72 Drives for 20" Bar
This is the Forester brand Full Chisel chainsaw chain loop for a 20" bar. This
chain is 72 drive links (count both cutters and non-cutters). This chain is
3/8" pitch, .050 gauge. This is NOT safety chain, so the risk of kickback is
higher. Please be cautious and comfortable using a saw before you purchase. It
is advised to use all available safety protection, chaps, eye protection,
hearing protection, and a face sheild. Bottom line: this stuff REALLY cuts
fast. This chain is for some serious cutting! It fits a 20 inch bar, and has
full chisel teeth. This type of chain is intended for professionals and those
with experience operating chainsaws. This is not a safety chain, and you will
notice a defined difference in your cut rate when you switch over. Removing
more wood with each passing tooth not only saves time, but it also saves fuel
and reduces wear on the chain and your body. This chain fits a wide variety of
chainsaws brands. It features the most common of all pitch/gauge combinations
(3/8" and .050") but does not fit every model. To make sure it will fit yours,
first check that your saw uses 3/8" pitch chains. You can find this in the
manual, or take your old chain and measure the distance between three
consecutive drive links (the rivets that keep the chain together) and then
divide that measurement by two. The result should be 3/8". If it is, then
ensure that your 20 inch bar uses .050" gauge chains. This should be printed
on the bar, but you can also check the part of your old chain that rides in
the bar's groove, which should measure .050". As always when operating a
chainsaw, make sure you have adequate training for the equipment you will be
using, and make sure to wear safety gear. FORESTER makes a full line of gear
to keep you safe while cutting.
Features
FULL CHISEL EFFICIENCY- NON safety chainsaw chain are for fast and experienced users. A full-chisel chainsaw blade provides the most efficient cutting - reliable replacement when your chain has a break or dulls
FITS A VARIETY OF CHAINSAWS - Fits on a medium or large 20 inch chainsaw chain bar, specifically on Oregon chainsaw models 72, 73, 75, LG Series and on many Stihl chainsaw bars
STANDARD CHAIN ON MANY SAWS - Features the most common pitch and gauge combinations (3/8" and .050"). These chains do not include sharpeners or other chainsaw accessories
SAFETY GEAR RECOMMENDED - Full-chisel blades (not included) It is advised to use certified safety protection such as forester chainsaw chaps, eye protection, hearing protection, a Forester helmet, and a face shield
CHECK YOUR SAW - Your chainsaw bar should show the recommended replacement length. If not, you'll need to count each link (both cutters and non-cutters) to determine the correct link chain size
Details
Manufacturer: ‎Ahlborn Equipment
Part Number: ‎30FC-72E
Item Weight: ‎12.8 ounces
Product Dimensions: ‎7.5 x 4.3 x 0.3 inches
Item model number: ‎72 Drives for 20" Bar
Is Discontinued By Manufacturer: ‎No
Size: ‎20 inches
Item Package Quantity: ‎1
Number Of Pieces: ‎1
Included Components: ‎Chain
Batteries Included?: ‎No
Batteries Required?: ‎No
Text block
View full details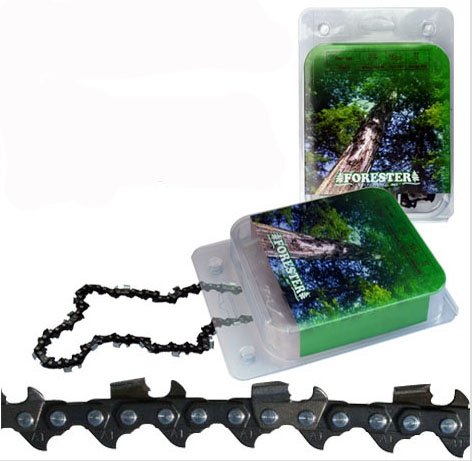 MGP Supply - Best known for quality
We help you to be prepared to anything in the forest